Wet sauna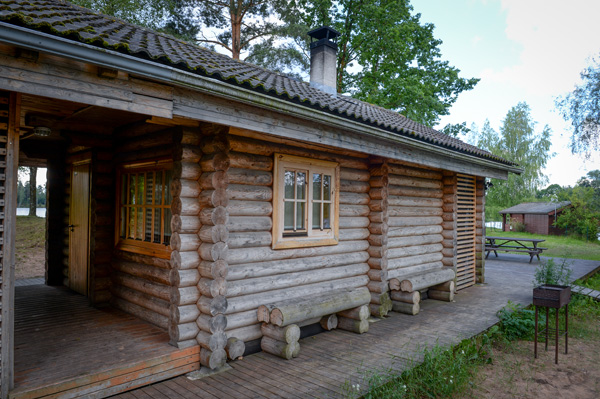 After sauna (bath swab of birch), test your endurance to jump in: into fresh water of pike pond in summer, into hole in the ice in winter. On airy terrace in summer your company (up to 50 person) can to taste:· cool beer,· home made food,· fish soup (our cook made),

Wet sauna pricing
1 – 10persons = 80€/ 8h, 11 – 20persons = 160€/ 8h, 21 and more = 240€/ 8h
ON WEEKDAYS: 1 - 5persons = 40€/4h, every next person pay 8€ per 4 hours, 11 - 15 persons = 120€/8h wet sauna and hall.
Fishing
Carp pound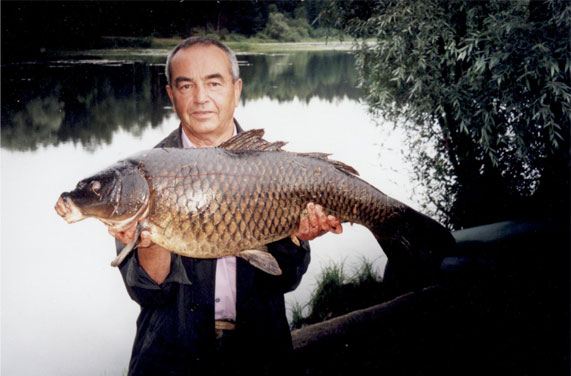 From early morning to late evening, with two rods, to make a conquest of carp. Guess which is for carp: plat du jour, best deep..
Crucian pound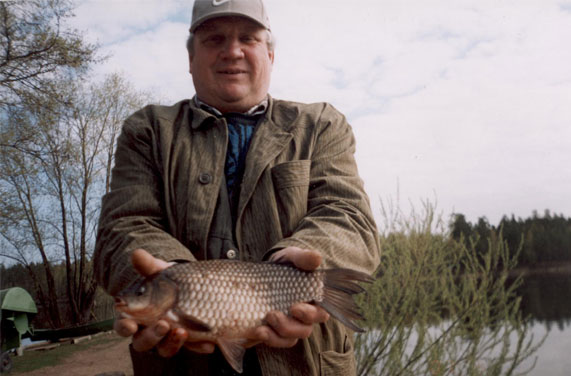 After the conversion of ice into water to new glaze, fishing in crucian pound keeps high adrenalin level in your circulatory system.
Pike pound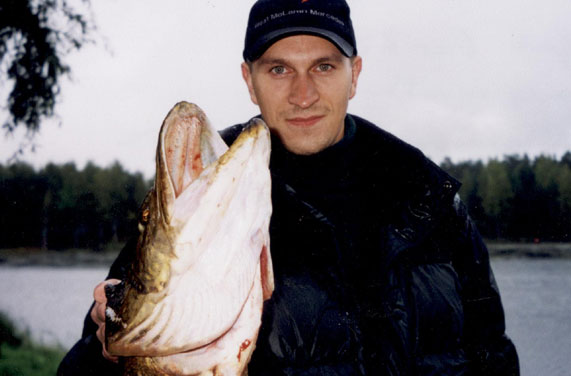 By boat you can catch pike, tench or perch. But by coast you have a chance to try conclusions with megacarp (our record – 14,5kg).
Ice fishing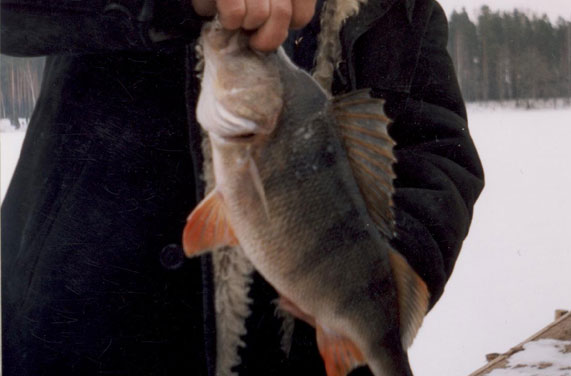 Ice fishing funs can feast on our pounds in winter. Give it a whirl!/p>
Fishing prices
Carp lake: 13€ per 12h.
Crucian lake: 5€ or 6€ per day. 2€ or 3€ for womens – anglers and pensioners – anglers per day.
Without pay or 2€ – for invalids.
Pike lake: 5€ or 6€ per day, 8€ or 10€ from boat.
Norm for catching fish per day (for 1 angler):
2 carps (under 3kg) or,
2 pikes (min. length 50cm) or,
2 tenchs (min. length 29cm).
Without pay – fishing and relaxation for kids younger than 12 years, only with adult control!
Camping - houses
Around one of four pounds stand two camping – houses of wood for two persons and one – for eight persons with comfortable beds. By the houses beach and dock for boats.

Small house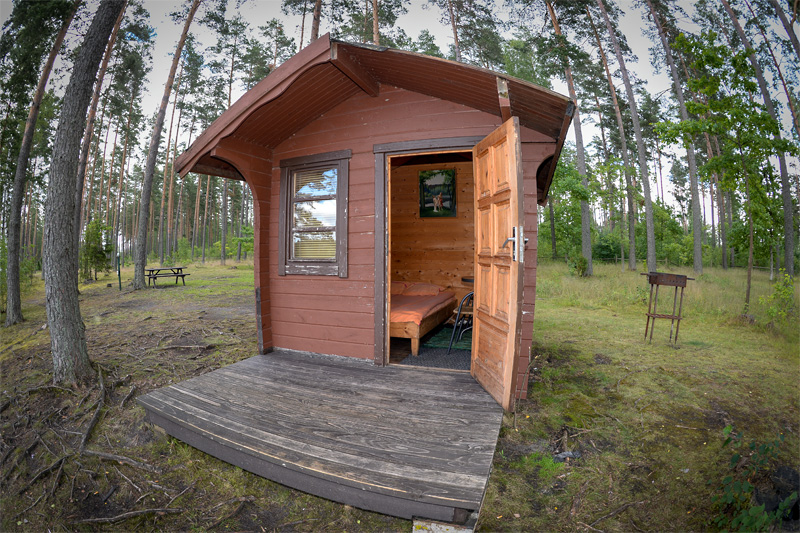 The Small house: for 2 persons, 30€ / per 24 hours, every next 24 hours 20€. If company greater than 2 persons, then everyone next person pay for relaxation 3€ / per 24 hours, every next 24 hours 2€.
Big house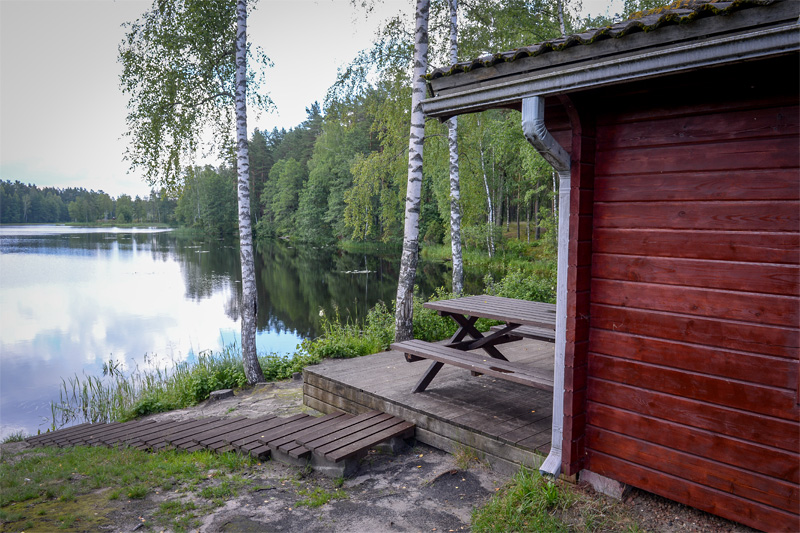 The Big house: for 8 persons, 120€ / per 24 hours, every next 24 hours 80€. If company greater than 8 persons, then everyone next person pay for relaxation 3€ / per 24 hours, every next 24 hours 2€.
Recessional house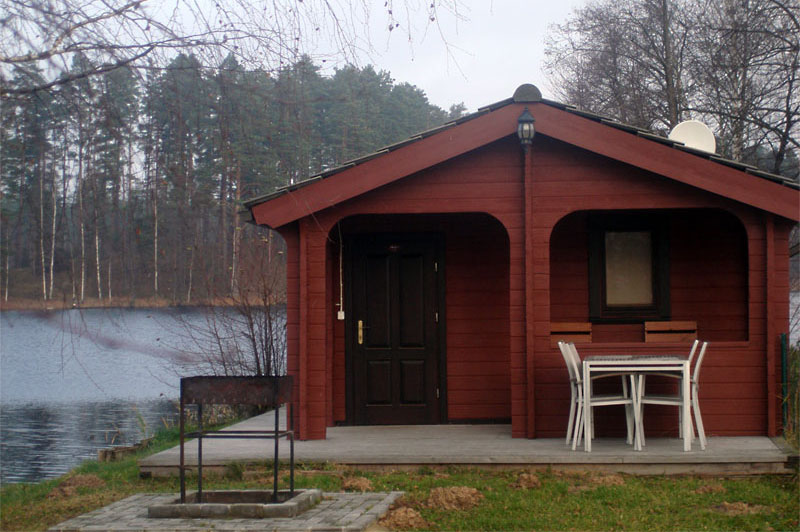 The Recessional house: for 2 persons, 60€ / per 24 hours, every next 24 hours 45€. If company greater than 2 persons, then everyone next person pay for relaxation 10€ / per 24 hours, every next 24 hours 5€. Inside, this house have: Wi-fi, Sat Tv, kitchen, large bed, shower, WC.
Summerhouses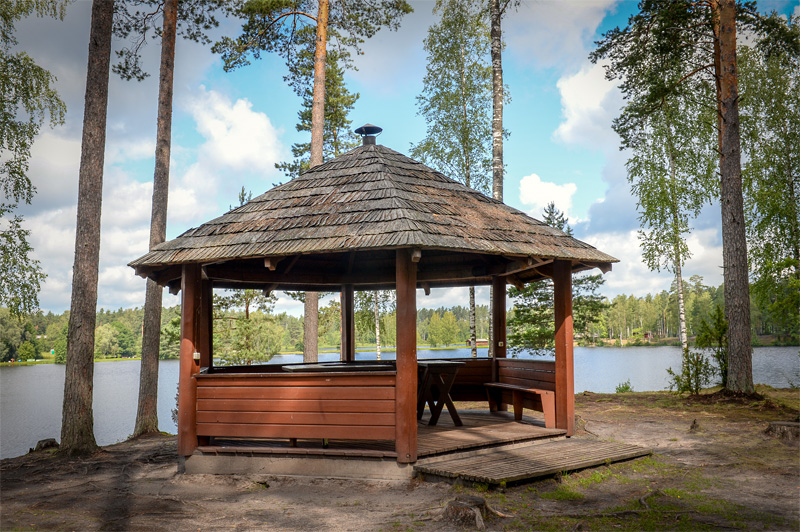 Summerhouse on shore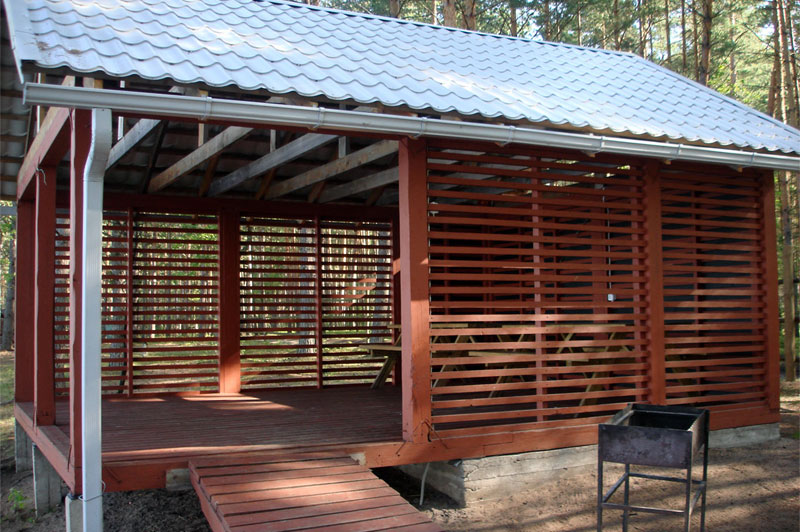 Summerhouse in wood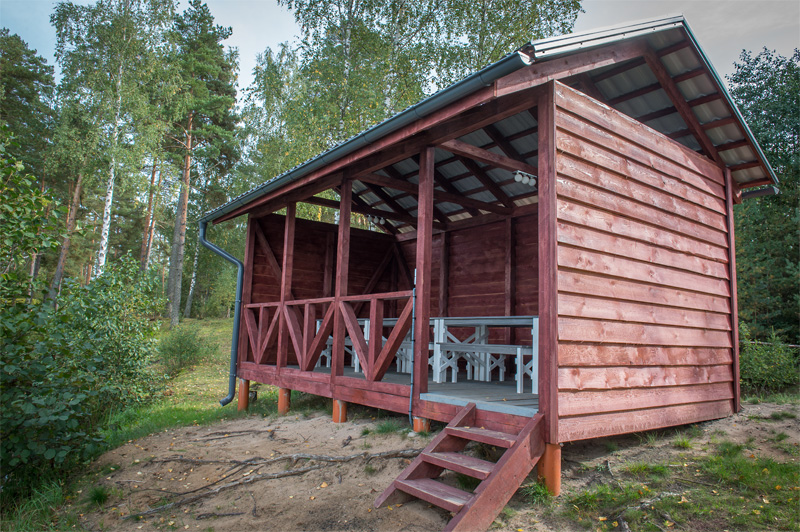 Summerhouse in corner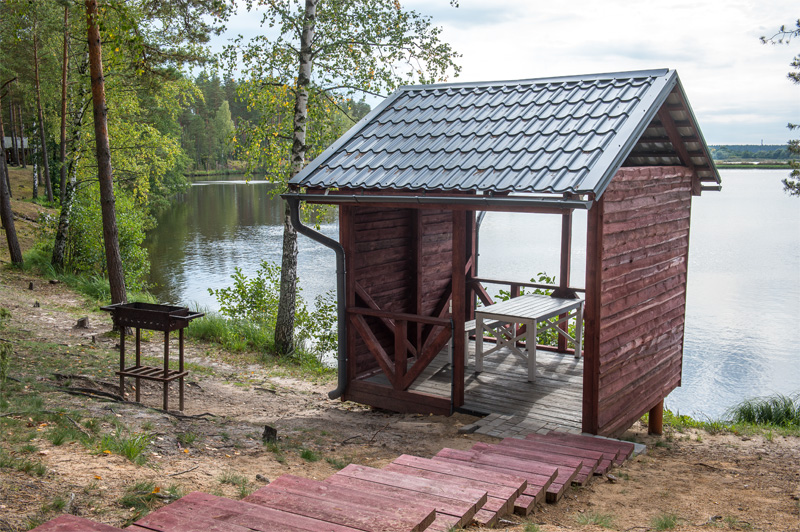 Litle summerhouse
Summerhouses price - 5€ / per 24 hours, every next 24 hours 3€ for person, min. pay 25€.
Places for relaxation and tents
Around of carp pound, stand places of relaxation with grill, fire place, outside furniture and electric supply. Of course you have a places for tent.

Pricing
3€ / per 24 hours, min. pay 15€, every next 24 hours 2€ for person..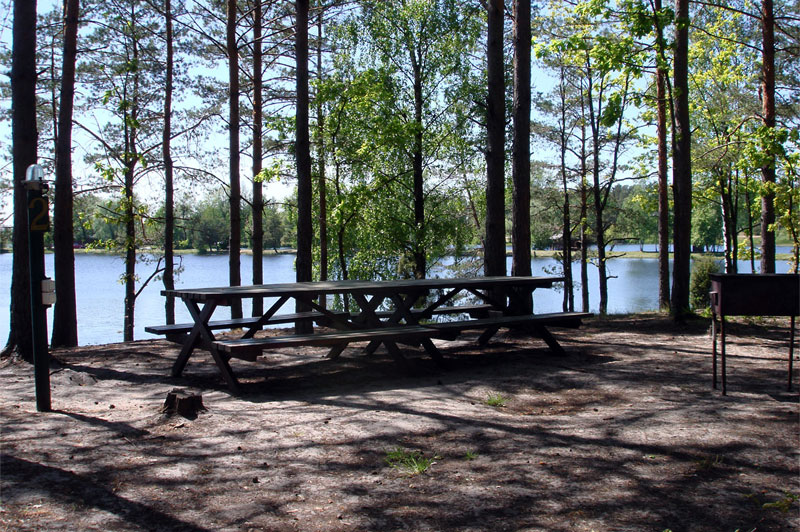 Boat rent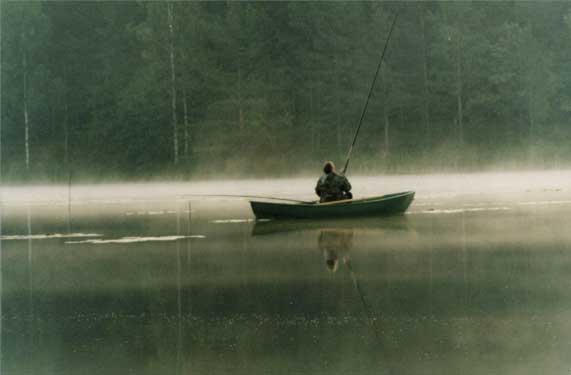 At daylight time sit in boat for two or three persons you can feel call of wild nature.
Boat rent price
3€ per 1 hour, 8€ per day.
Shop
In teritory we have a small shop, where you can buy:
coffee, drinks,
alcohol, cigarettes,
snacks, ice cream,
coal or firewood for barbecue,
bathbrooms,
fish baits.
You can rent fishing rods.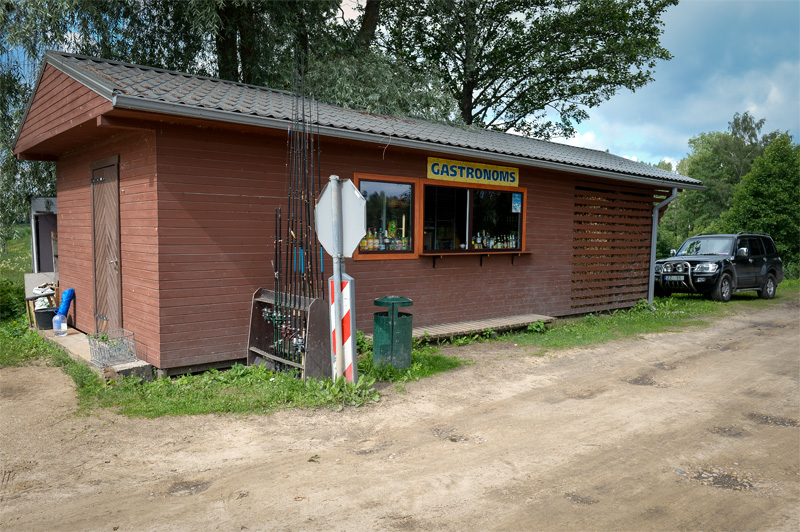 Survival school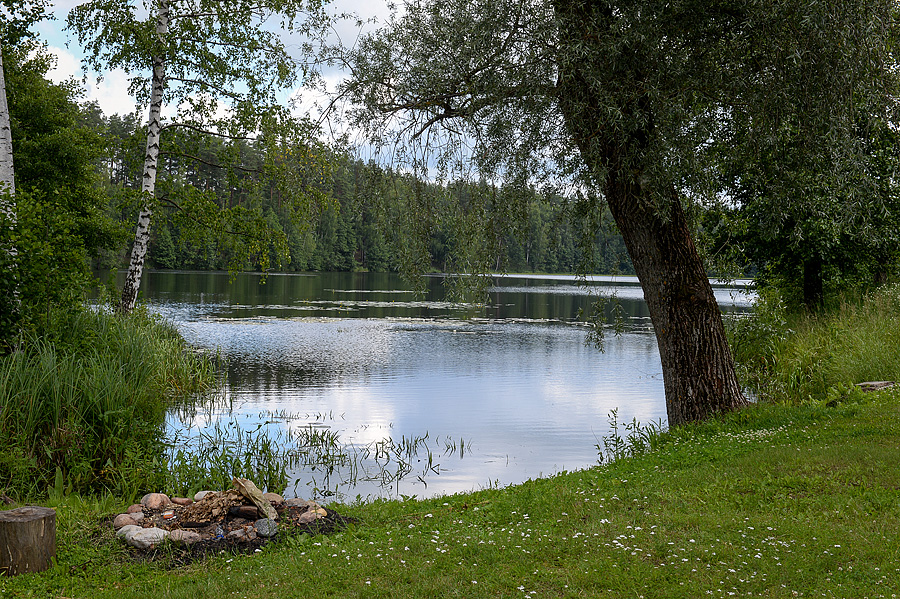 We offer you a course of efficient training "Survival in Wild Nature".
A modern man having found himself in extreme conditions without necessary supplies and possibility to have immediate help must have (beside endurance and sharpness) special knowledge about ways of survival.
Studying to understand nature better is an interesting occupation. You will estimate the importance of time spent in our trainings when you become truly convinced in your own strength and abilities to help yourself and others in extreme situations.
"The Practical School of Survival in Wild Nature" is based on the following curriculum :
Basic principles
1. Psychological aspect *
2. Strategy development
3. Health and hygiene
4. Signals of calamity

Providing water

Providing food
1. Vegetable food
2. Animal food
3. Fishing and theory of hunting *

Fire making and cooking

Making refuge and organization of a camp
1. Temporary refuge
2. Permanent refuge

Skills of rendering the first medical aid *

Planned training and equipment *
1. Means of safety
2. Getting one's bearings
3. Equipment according to season

Overcoming water barriers *

Features of specific geographical conditions *

Ethics of intercourse with wild nature

*) – more sophisticated curriculum
We offer you to complete 3 grades of training which differ in duration, amount of information and individual skills, and level of complication.
Grade I: 1 day (10 hours)
Grade II: 2 days and 1 night in training ground (30 hours)
Grade III: 3 days and 2 nights in training ground (55 hours)
Studies in each of 3 stages take place in summer, spring- autumn and winter.
Apart from the basic course of survival in European geographical conditions, we offer specific skills of survival in extreme conditions of tropical forest, desert, tundra and mountains.
We are glad to share our experiences with you!
Having passed our training, you can enjoy fishing, picnic and share your knowledge with your children and friends more.
Such practical training in nature is a good way to escape daily stress and problems.
Wishing you success and waiting for you coming with your relatives, colleagues and friends to our training ground!
Contacts and map
"Alberta dīķi" are located in following address
Ērkšķu iela 21, Upesciems, Garkalnes novads,
only 5 km from Riga (capital) border.

Parking for clients is free of charge.

Phone: 29174400, 29103331
e-mail: askra@inbox.lv

Legal details:
SIA ANDO73, LV40103484724
MATĪSA IELA 27-49, RĪGA, LV1001
SWEDBANK, LV29HABA0551031859436